VFD Drive Systems Solutions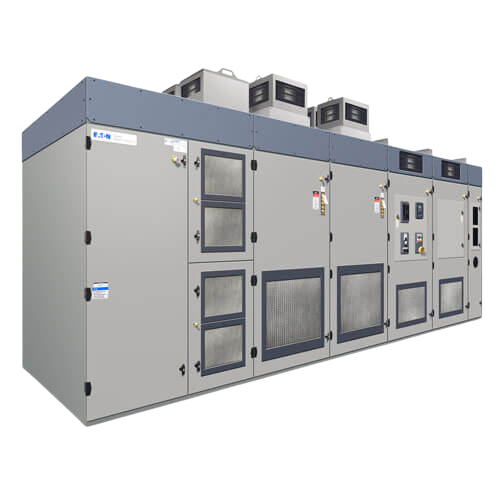 VFD drives are modular designed architecture (MDA) and offer the latest control and Power Design at the Market. They are a combination of excessive reliability, durability, and simplicity of protection. These devices are provided both in water-cooled and air-cooled VFD drive systems configuration with a horsepower range of three hundred to 2000 HP. These devices can be load shared to gain capacities up to 6000 HP. Each Drive machine may be absolutely customizable, engineered, and tested to the patron need. Each unit is the front assessable for ease of renovation and much less downtime. We make use of GE ConverTeam VFD technology for its reliability and common spares across current fleet rigs (Other VFD manufacture Usage may be discussed with MRI Customer Sales Contact). Multi-use TD/RT VFD pressure permits for operator assigning one force to two features with out cabling or system changes.
Full front access cabinets allow for safe and efficient maintenance

Modular design architecture (MDA)

Fully customizable, engineered & tested

Electronic drive health logging and monitoring

Profibus and TCP/IP communications compatible for integration into new and existing rig networks

HP range of 300-1800HP per drive with load share up to 6000HP

Independent DC rectifier per drive (Common DC link Applications Supplied Upon Request)

Control software is flexible, with linkable logic blocks

Up to 490 configurable parameters for specialized

Application, tuning, and controls

160 monitoring parameters

Supply voltage: 380V-690V (+/- 10%), 45-65 Hz

Cooling: Forced Air cooled or Liquid Cooled

160 monitoring parameters Supply voltage: 380V-690V (+/- 10%), 45-65 Hz Cooling: Forced Air cooled or Liquid Cooled

Enclosure protection: NEMA type 1

Motor control type: Flux vector control without encoder, flux vector control with encoder, VVVF (Frequency) control
SCR Drive Systems Solutions
SCR also are a Combination of high reliability, durability, and simplicity of maintenance. SCR's Drive Units have a established service file of over two decades in countries across the world. SCR systems are to be had in numerous unique models from 500 to 3000 HP.
Controls and Power Design
Automatic drive power phase back
Adjustable current limits to control top drive / rotary table torque limits
Separate power supply and filter from main bus to each controller
Multiple SCR bay load sharing is available
Series/Shunt wound motors
Speed or voltage control and load sharing for up to four motors
Monitors voltage or current to regulate motor speed
Modular design enclosure
120 VAC @ 60Hz control voltage with transient voltage protection
Standard 6-Plus gating signal utilizing "hockey puck" SCR's